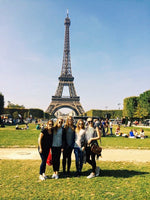 Well, not literally, but you know what I mean. I have been lucky enough to travel to some amazing places in my time, and every different place has left me with a bundle of new knowledge, friends, memories and of course, experiences.
I understand not everyone has the money or time to travel, but it is definitely something to aim for. And remember, you don't have to go on a 6 month trip around Europe to be 'travelling.'
Go on a road trip. Pack your car with food, drinks, Ipod speakers, and a tent and drive somewhere.
So many people I know including myself, live in amazing places around the world, yet forget to explore their own country.
If money is a worry for you, this is perfect. I was itching for an adventure around July last year, but I wasn't ready to plan a big trip. So a friend and I flew to Melbourne, hired a Jucy van, and started adventuring down the Great Ocean Road. IT WAS AMAZING! We ate out of tins, froze our bums off, barely slept, and didn't really shower, but what an experience! There was this special moment on that trip. We were driving back after visiting the 12 Apostles (there's only 10 by the way), and we pulled off down a random side street to see where it would take us. We ended up eating our lunch on a deck looking over a lake which was surrounded by acres of land and hundreds of kangaroos! 
It's moments like those that I live for, and the majority of those moments have happened to me throughout my travels.
So if you have the money, time and support to travel, DO IT. If you don't, drive somewhere for a weekend and create your own adventure. I guarantee you a whole lot of fun and new experiences. Life is too short.
Below are some pictures of my travels. I only allowed myself to choose one photo per trip, it was so hard!
Bali, Indonesia - Trip #1
This was taken at Echo Beach House. I have had some of the best Sunday's of my life at this place. All you do is dance to the Balinese cover band, sip on cocktails, and take in the view. Their motto: 'no shoes, no shirt, no problem!' 
Bali, Indonesia - Trip #2
This has got to be one of my favourite photos. I can't claim I took this one. My Dad did, and for a cost. She charged us for the photo!!! 
Bali, Indonesia - Trip #3
I took this in Uluwatu looking over Padang Padang beach. I'm not sure if I enjoyed the walk down to the beach, or the beach itself better. You take stairs and trails through shops, houses and caves only to find yourself at a beach surrounded by clear blue water, monkeys, balinese music and ice-cream stalls. 
New York, America 
Coolest. City. Ever. My family and I had a ball here. I felt like I was in a movie the whole time. I really agree when Alicia says 'Concrete Jungle Where Dreams are Made of.' 
Los Angeles, America 
Universal Studios in LA was the highlight for me. Well, the studio tour was the highlight for me to be more specific. 
San Francisco, America 
I fell in love with San Francisco the minute I got off the plane. What a beautiful city. I absolutely LOVED Alcatraz. Very cool experience.
Hawaii
I'm calling it. I think this is my favourite holiday destination that I have ever been to. I think. Or is it Bali? Too hard. I don't know. Too much pressure. Freaking out… The fact that there are amazing shops, bars and restaurants right next to beaches where you can surf, snorkel, swim with turtles, sail or stand up paddle board gets me really excited! LOVE HAWAII! 
Bali, Indonesia - Trip #4 (Yep, we go a lot) 
This was taken from the Bali Mandira Hotel along Legian beach front. I loved this resort! I especially loved the couches you could laze on while sipping cocktails and taking in the view. Such a hard life in Bali. 
Great Ocean Road, Victoria 
Good God we saw some interesting, amazing, funny things on this trip. I highly recommend road tripping the Great Ocean Road as an amazing, yet cheap experience. Let me know if you want our itinerary. 
London, England 
This was taken at the Tower of London. I was lucky enough to be there during the time they were remembering World War One by planting 888,246 ceramic poppies, one for each British and Colonial Fatality during the first World War. The picture doesn't even do it justice! 
Whitstable, England
I just love this street so much. It was so quaint and had the most adorable shops along the way! To make it even better it was right on the seaside.
Canterbury, England
I loved Canterbury. I walked around the streets for hours. I got lost, but I really didn't care. It was such an interesting place. So many secret paths and canals, winding in between houses and businesses. 
This is the Canterbury Cathedral, it had my jaw dropping. 
Brighton, England
I loved Brighton, and I think I found my most favourite shop in the world there. They had all things beachy and bright. Shells galore! 
Paris, France
I LOVED PARIS. So much. I don't know how we fit so much into five days but we did. We were exhausted, but it was so worth it. I couldn't go past this picture. Four of my best friends, all in Paris together, under the Eiffel Tower, only to go and watch Beyonce perform that night. Woahhhhh! 
Amsterdam, The Netherlands
What a pretty place to visit. Lots of funny experiences in this place! We got so lucky with our boat cruise. It was so affordable, went for an hour, came with Moet Champagne, blankets, and a tour guide!
Does it excite you that maybe you haven't visited the place in the world that is going to become your favourite destination? That excites me. There are so many things to look forward to. You never know where your future is going to take you!
Other places in Australia you HAVE to visit:
Sydney - Speaks for itself doesn't it?
Melbourne - Never have I ever had better food or cocktails, and sat in cooler restaurants and bars than I have in Melbourne.
Great Barrier reef - Pretty amazing. I would suggest Whitehaven beach… that was my fav. But don't go in the height of summer because those Irukandjis might be around. Ekkk.
Fiji- (Yes I realise Fiji isn't in Australia.) I would go back to Fiji in a heart beat. We island hopped, and I found the best Island was the one we stayed on which was Malolo LaiLai Island. The locals, food, reefs, water and music there are beautiful. 
 MY TRAVEL WISH LIST:
Greek Islands
Italy
Portugal
Spain
Switzerland
Bahamas
Tahiti
I wish you all great and safe adventures. 
Cleo 
xx
Feb 17, 2015