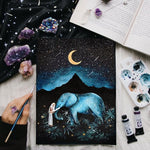 As written in 'May Cause Miracles' FEAR = False Events Appearing Real
The fears that live inside of us can stop us from living our dreams and loving others. Two very important factors in living an amazing life. I believe a goal that everyone should have is to recognise fears and work toward healing them.  
When you choose to perceive love over fear, life begins to flow.  Love and fear cannot exist together. So when you choose to see people and situations through the eyes of love, fear cannot appear.
Recognising your fears can be difficult, as you might think that some fears are just protective methods. But they're all fears and they're all causing limiting beliefs and stopping you in some way or another from living a happy, positive and easy flowing life. 
Change your perspective.
Fears show up in many ways, the most common way is through negative thoughts. Thinking things like 'I look ugly,' or 'I won't be able to save enough,' or 'I can't do it,' all come from a place of fear. To live a life through love, you must eliminate these fears. If you believe you can't do something, you're right. But if you believe you can do something, you're right as well.
In 2019, I want to inspire people to get started. Get started on whatever it is that you want to do. Save for that trip, start those yoga classes, eat better food, start your own business, paint that picture. Don't let fear take over. Imagine if you started what you wanted to 1 year ago? Imagine where you would be now! Well, if you start something now, imagine where you will be this time next year, going into 2020?
Shoot for the moon, because even if you miss, you'll land among the stars.
Everything you do and try in this life, is going to help you grow and learn. Even things that seem small, can end up transforming into something huge. There is no reason why we should sit on ideas instead of giving them a go. A study was done with terminally ill patients and the findings were really quite sad. The majority of the patients said they wish they had the courage to do what they wanted and not what others had expected of them. Can you imagine feeling like this at the end of your life?
The Law of Attraction says that you can attract ANYTHING into your life, if you completely believe. So study up on the Law of Attraction, I have plenty of blogs in my archive and get started now.
Face your fears and distinguish those limiting beliefs you hold by using positive mantras.
You are good enough, you're smart enough and you're ready.
Wishing you the most amazing, magical and positive year yet. Happy 2019.
Cleo xx