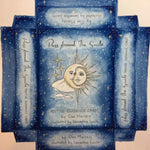 Hello Pass Around the Smile'rs! What a crazy, amazing year it has been! I am about to take you through the whole process of creating my Positive Guidance Cards and meditations through a very long blog! I hope this can inspire you to begin whatever it is you have been dreaming about, or to push forward positively on a dream you're already pursuing. Here we go…
Growing up, I would use what I called my 'angel cards' all the time. My Mum had about 5 decks which I slowly and as discretely as possible accumulated and made my own. I ended up buying another 3 on top of those and I would use them all the time. When I was angry, I would use them to feel calm and get the positive vibes flowing again. I would use them when I was confused, asking the cards questions to get clarity and signs from the Universe, angels or my loved ones in heaven. When I was feeling sad I would use them for guidance and to usher in good vibes and on the other hand, I would use them when I was feeling good, to bring in even more magical energy and attract signs and answers to push me forward even more.
In 2018, Pass Around the Smile expanded into events and courses. I adored the magical energy that these nights exuded and I thought it was the perfect setting to let people pick a card out of an angel card deck. I was always left feeling so inspired and amazed after each person would pick a card so relevant to what they needed or wanted to hear. I remember people's faces and what they said to me so clearly after they picked a card and I thought to myself 'I need to make my own deck.'
This was somewhat an 'uh huh!' moment for me, but also an 'uh oh!' moment for me, because when I have an idea, I HAVE to carry it out. I was thinking, 'oh gosh, now I have to do this!' A good few months went by and I didn't do anything about this idea, it was always in the back of my mind, but it just felt so huge and overwhelming that I tried to ignore it for a while. Self doubt washed over me and I couldn't shake it. I thought, 'who am I to make a deck of cards?!' 'Who is even going to buy the cards?!' 'I don't know where to start!' 'I don't have enough time,' 'I'm not smart enough.' Every limiting belief you could imagine - I battled for a while.
During this time I was doing lots of card readings for myself, trying to find the answer and the motivation to start. I would almost always get spiritual teacher, writer and healer. I knew it was something I had to do and I decided to let everything go and JUST START. However, I made a rule for myself… I wanted this to be a fun and calm project and I promised myself I would stop and re-asses if it wasn't going that way. Well, it was time to practice what I preach! I often tell people: 'what is worse than failing, is never starting.' I didn't want to regret this, so off I went!
I put a call out on Facebook for an illustrator and got no replies, and just like that, all the limiting beliefs washed over me again…. 'No one wants to work with me,' 'this is going to be so hard,' and to be honest, I was a little angry with the Universe. I quickly got over my little tantrum after remembering Wayne Dyer's quote, 'change the way you look at things, and the things you look at change.' I started to say to myself 'this is going to be easy,' 'this is going to be fun,' 'I trust that the perfect person will pop up.' Straight away I felt better, lighter and way more optimistic.
The next day I got a message from a local artist called Samantha Smith and we decided to meet up and chat about possibly working together. I got to the cafe, and went to sit down with a lady I recognised from a tiny profile picture. As I sat, I realised she had birds ALL over her dress. (I am not a fan of birds, completely terrified.) And I was thinking 'ohhhhh no, this isn't a good sign, Universe what the hell are you trying to tell me?!' We got talking and I quickly realised she was an incredible person … about 15 minutes later, Sam asked me if there were any no no's for the illustrations. I looked down at her dress, thinking how do I say this without offending her …. and quietly said, 'ummm, birds? Please no birds.' Then, to my surprise Sam goes, 'oh my god I am terrified of birds, are you too?!' I politely laughed and looked awkwardly at her dress, and she was like 'oh, I love drawing them, and wear things like this to get over my fear.' In that moment, I thanked the Universe for this hilariously incredible sign and hired Sam as the illustrator of my deck.
The next few months were incredible. Sam and I worked so well together. I had written out the title of each of the 42 cards, with a little message that would accompany it along with a rough idea of what I wanted the illustration to be. For example: Self Love - 'It's time to fall in love with yourself. You come first.' (Night time, moon looking down into ocean seeing its own reflection.) Sam would then send me a draft within minutes and we would go back and forth for a for a while picking colours and discussing any changes. Once we felt like we nailed it, Sam would go off to do the drawing, and I would continue writing the guide booklet which came with the cards.
These few months were filled mostly with highs, but let me remind you, just because I run a positive blog, does not mean I'm always positive. The limiting beliefs would come back and forth, there were times where I felt like I wasn't creative or smart enough to be writing cards and a guide booklet, and there were times I thought I wouldn't have them done by Christmas (which was my goal) and that made me super anxious. Whenever these thoughts would creep in, I would remind myself that this was a passion project, and it was meant to be fun. I knew that if only positive, fun and exciting energy was poured into the making of these cards, they would bring positivity to everyone who used them. So when I wasn't feeling 100% positive, I would stop, and come back to it when I was!
During this time, I was on the search for a manufacturer. This process took a lot of different emails, with a lot of different companies from a lot of different countries. I tried to not let it overwhelm me, because to be honest - I had no idea what I was doing. I made sure each company had good values, fair rules, comfortable work spaces and treated their staff nicely and in the end, I went with the very first lady I talked to. The Universe must have had my back right from the beginning!
The process was full steam ahead at this stage and Sam and I were aware that we were coming up to deciding what would be the front cover. We were both a bit nervous leading up to this, thinking how are we going to decide what we want?! All I knew, was that I wanted a sun and moon with faces … we chatted for a little bit and then Sam sent a draft. As soon as I saw it, my jaw dropped. It was perfect. Every worry I had drifted away and I along with Sam, was so sure that this was the absolute perfect choice for the front cover.
We were done! Months and months of creating something we were both passionate about and we had finished! We were SO proud of ourselves, we had never done anything like this before and we did it! I'm all for treating yourself and recognising achievements and Sam and I made sure we did that! It was funny, I was almost sad the process was over, because it was such a smooth, fun, exciting and rewarding one!
I was now at the stage where I had to get Sam's beautiful illustrations into really high quality digital form to send to the manufacturers. I had no idea what kind of a person I had to use to do this. We tried professional scanners and it made the artwork look yucky, I emailed a bunch of artists for their advice, posted on Facebook and nothing was really coming from it. I noticed myself getting anxious again, and having thoughts like 'all this work and now I'm not going to be able to complete it.' As Gabby Bernstein taught me in Super Attractor, I recognised what I was feeling, forgave the thought and chose again. I chose to believe that something incredible was going to work out, and I surrendered. Remember, that attracting doesn't have to be hard work! I then took a day or two away from trying to make this happen and went on with other things in my life. A few days later, my boyfriend came home from work and was chatting with a customer who is a graphic designer. Her and her partner, who was a product photographer offered to take high res photos of my cards and fix them into the perfect files for me.
WHAT A RELIEF! This lady was Laura from Laura Doe Designs and was so easy and helpful to work with. As the process went further, the manufacturer had more requirements that made no sense to me. Cutting and bleeding lines, CMYK colour and so much more. Again, I was in over my head - I had no idea what I was doing, thank god the Universe bought me Laura!
I finally got everything sent off, and now it was time to wait for my sample. The day it was due to arrive, I was beside myself! I thankfully had the day off, but I found myself standing at the front door like a puppy waiting for her owners to come home. It got to 3pm and I was sooo disappointed, thinking it mustn't be coming today. I went to leave the house for training and there it was… sitting in the corner of my garage! The delivery time was 9am!!! Lesson: Check, even if you think you haven't heard the postman!
The samples gave me shivers, I was SO excited, SO thankful and SO sure I had made the right decision. There were a few small things that needed fixing - but nothing major. I then placed an order for 500 DECKS!
It had now been almost 7 months of always having something to work on. I would come home from work, then work on the cards or the guide booklet and all of a sudden I had nothing to do. Did I relax? No. Should I have relaxed? Probably. Instead, I decided to create TWELVE meditations to go with my cards on my website. Twelve. Why not six Cleo? Or three? Anyway, like I mentioned before, when I have an idea I have to carry it out.
I thoroughly enjoyed the next month or so writing my mediations. It was such a nice and calm process. I then luckily, had my Dad's studio to record in. During this time, my 500 decks of cards arrived. IT WAS THE MOST EXCITING DAY EVER! This project, which I had dreamed up, then had SO much fun making, was alive. But the hard work was far from over.
I had to finish writing, recording, cutting and exporting my meditations and figure out how to get my online shop up and happening. Product shots, shipping, payment types, packaging, digital downloads for meditations, professional photos of the decks, a launch party, the lot!
I learnt so much, and I'm so proud that I did all of my website on my own, through lots of trial and error and research! (You'll be surprised what you're capable of if you just give it a go. Patience and believing in yourself is key.)
Something crazy happened the day I finished my meditations. If you have read my blogs or been to my events before, you would know that I'm an actor, and for a long time that dream wasn't happening for me. During that time in 2015 I started Pass Around the Smile to help myself and others. It was something my angels and The Universe were telling me I needed to do and I knew this, even though all I wanted to focus on was acting. From then until now, I had little successes in acting, but it was like the Universe was holding back the auditions, roles and the right acting agent for me. Deep down I knew it was because I had a higher purpose to fulfil, where I would help people and also grow an incredible new passion of my own. The Universe always has a better plan, even if you can't see it at the time! As I was recording my last of 12 meditations, I hit the stop and export button. In that moment, I got a phone call. It was an amazing acting agency letting me know that they would love to represent me. It was like the Universe was patting me on the back for listening, being patient and trusting the process. The Universe was waiting for me to create Pass Around the Smile, the cards and mediations to then give me what I wanted, at the perfect time.
I spent the next week showing a huge amount of gratitude for this crazy, amazing journey. I meditated, journaled and went on gratitude walks. I wanted to make sure the Universe and my angels knew how thankful I was for this process and for protecting my cards and meditations, bringing them to the attention of those who needed it.
I then organised a launch party to celebrate, and just like that … my Guidance Cards and meditations were live! I'm now letting their magic speak for themselves… If you have my cards and meditations already, thank you and I hope they continue to bring you guidance, love and positivity. If you haven't, you can find them here, and please email me at hello@passaroundthesmile.com if you have any questions.
Thank you for reading this extremely long blog! Have an incredible week and Merry Merry Christmas!
Cleo xx
The finished product … Photos by Sharna Hupfeld
The launch party … Photos by Lily Ray McDonald
Launch party highlights
- ELSKA serenading us with her beautiful voice and music. (elskamusic.com)
- PERKii pro-biotics, the most perfect refreshing drink to go around! They didn't last long! (perkii.com.au)
- My dress <3 (https://dressedbyjaz.com/)
- And last but definitely not least, my videographer who captured the incredible energy of the night for me. Seb Waters, from Unfinished Films. I barley noticed he was there on the night while he was capturing everything I could have ever wanted to easily, he also edited the video together so quickly. Highly recommend Seb for your parties, weddings, functions or any creative projects! Instagram: https://www.instagram.com/unfinishedfilms/
Here is the video! Featuring the amazing Elska's new song: Sweet Girl (https://open.spotify.com/playlist/7CERoGikVavFqRumFi4uhf?How_It=)
December 17, 2019