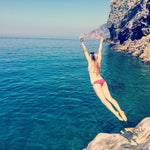 So I found my happy place. For those of you who don't know, I have been travelling around the UK and Europe for seven weeks with my boyfriend, Luke and some friends along the way. Hence the reason I haven't posted for that exact time! Sorry, but guess whose back!
I have blogged previously about the importance of travel and seeking adventures, and I still completely agree with myself! I think that it is such a huge part of life to explore and experience other countries, food, culture, food, people, food and drinks. Guess what? I really love food. I have also mentioned in my Travel Makes You Richer blog how exciting it is that maybe you haven't visited the place in the world that is going to become your favourite destination?! Well, after this trip I have new favourite destinations, and you know what's even cooler? That is going to keep happening! I don't know if the next place I travel to will become my favourite, or my most memorable, or the most fun. So many exciting things can await you, and you have the power to plan and make it happen, so please do it.
Cinque Terre. In Italian that means 'The 5 Lands'. Cinque Terre is situated on the coast of the Italian Riviera and to the west of the city, La Spezia. From La Spezia we took the train to the fifth town, Monterosso Al Mare. The view from the train was insane! We were on a cliff looking out at miles and miles of deep blue water. 
We arrived in Monterosso shortly after and we were craving the ocean. Well, we got that, and a lot more. I honestly don't think I stopped smiling the whole time we were in this beautiful place. There was so much to see and do, but at the same time, you could relax, eat and drink cocktails and not feel like you were wasting time. 
During our three day stay here (not long enough) we hiked across to the fourth town. It took about an hour and a half, it was a hard and hot walk but so worth it. The views were out of this world, and the beautiful path winding through lush rain forests, waterfalls and random cat homes was very interesting! We arrived in the town of Vernazza. The view coming up to Vernazza was the view I had googled a million times. I felt like I was in a postcard. It was one of those moments where I stood there in awe and just felt so happy and lucky to be there. These are the moments that I live for! We trekked down the hill, explored the cool little town and then found our own little swimming hole. We spent hours baking, cliff jumping and swimming in our private little spot of heaven. Of course here I had another moment of pure happiness and I was in complete disbelief that I was somewhere this beautiful! We then trained to the town of Riomaggiore which was again, beautiful. We explored and explored until we were exhausted. 
I ate some amazing gnocchi, gelato, and drank some incredible wine in Cinque Terre which again added to the whole experience! When we weren't exploring the interesting towns of Cinque Terre, we were relaxing on the long beach of Monterosso Al Mare. We were so happy we stayed in this town as swimming in the ocean is one of our favourite things to do and Monterosso had the best swimming beach. The water was crystal clear, and it didn't even hurt to open your eyes under water. There was a moment when I was swimming by myself, and I was just floating there…the sounds of the pebbles moving underneath me was so relaxing and it echoed in my head before I went into a state of pure relaxation. I seriously don't think I have ever been that relaxed. Nothing could wake me, not even nearly floating into the man next to me apparently. 
I am so thankful for all of these experiences I had. It puts the biggest smile on my face to look through photos and to think back to how happy I was while I was travelling. Now when I am stressed or not as happy as I want to be I think back to that time I was floating along the Italian Riviera with not a care in the world. 
I wanted this blog to be more of a photo diary so I've included heaps of photos which I'm pretty sure will make you want to visit Cinque Terre. 
July 7, 2015