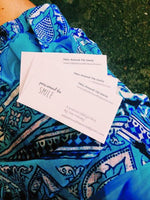 Clare Bowditch. A legend in my eyes. She teaches creative people about business, and business people about creativity. She says, 'Do what you love, make money, save the world.'
Oh my God. I actually love her. For those of you who don't know, Clare is a singer, actress and mother. Everything I aspire to be!(The mother part not too soon.) On Sunday, my Mum and I attended her Big Hearted Business Morning Tea at Rabbit & Cocoon put on by the awesome Bleach Festival, and it was the most inspiring morning ever!
She effortlessly had the whole audience feeling relaxed and inspired in seconds. She had each section of the room sing different notes, and the result was magical! We sounded pretty damn cool! 
After sipping on yummy juices and munching into chocolate and peanut butter cookies, we then had the pleasure of listening to Clare's story for the next couple of hours. She worked very hard for what she wanted. It is hard to make money in the creative industry and not loose your marbles, but check her out! After years of tears, determination and hard work, she now works full time doing what she loves. She was asking us questions like; what did you want to be when you were little? And what makes your happy? They were questions that you don't think about everyday, and they made you assess whats important in your life. I met a lovely lady called Nina who was sitting next to me, and she said when she was little, she wished that she would be happy in the future. I loved that!
Afterwards we were treated to a long table full of amazing food. Clare encouraged us to mingle with all the like-minded creative people that surrounded us. I felt a bit awkward doing so at first, but after meeting a few people, I realised they were just as uncomfortable as I was. I met photographers, designers, singers, writers, the list goes on. And they all loved the sound of my blog! Which put a smile on my dial. 
Then, it was time to meet Clare. I was a little star struck. But as soon as she saw us awkwardly waiting for her conversation to finish, she rushed over with the biggest smile and introduced herself! I was like … I know who you are! I nervously handed her a 'Pass Around the Smile' card and she was so excited and congratulated me! 
What a day, easily the best $50 dollars I've ever spent. (Actually Mum shouted me that one, cheers Mum.) If Clare is ever holding the Big Hearted Business Morning Tea in your area, GET THERE!!!
This event was held at Rabbit & Cocoon. Their space and catering were out of this world! This was apart of the Bleach Festival that puts on a feast of contemporary live music, pop up art installations and exhibitions, outdoor film programs, street parties, theatre, and ideas across the Gold Coast. 
Cleo xx
March 16, 2015