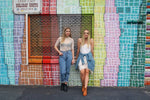 I consider myself very lucky in the friend department. I have a group of girlfriends who make me smile and laugh non-stop. By non-stop I mean our abs actually ache. I can't even begin to list all the memories we have shared, and I get excited thinking about all the memories yet to come! 
Growing up, things change. We have girls here, there and everywhere! London, Leeds, South America, Sydney and so on! The one thing I love about all our friends is that WE don't change. THINGS might, but WE don't. Once THINGS started to change, I got a bit un-settled. I thought that I would loose friends and everything would be different. It definitely wasn't like that. 
Whoever said 'distance makes the heart grow fonder' is an intelligent human being! We never took each other for granted, but with friends all over the world it has made me appreciate every Viber conversation, every Skype call, and then of course every time we see each other in person so much more!
One of the girls, Josie, moved to London 2 years ago and has lived there ever since. When she returned home it was like she never left! Jos is one of the most stylish, kind and funny girls I know! She is the creator of the blog London Girl, and I have no doubt it is going to sky rocket! We decided to bring our personalities and styles together in a colourful and fun photoshoot. We did this shoot at
Miami Marketta, the most amazing, colourful, fun and creative space you have ever seen! 
I have some really exciting blog posts coming for you all soon. Get ready to feel good!
SMILE, YOU ARE BEAUTIFUL.
And remember to pass around that smile. 
Cleo xx
April 1, 2015